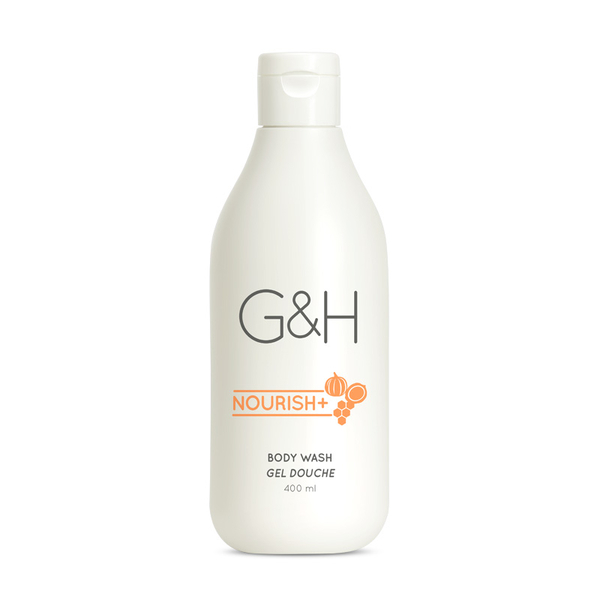 Take care of your skin in the best possible way and try a new sulfate-free body wash which will gently clean and calm your skin. Creamy, pearlescent formula of body wash gently cleans and calms your skin while helping improve its moisture level.
How to buy
Product code:118107
Gentle, yet effective body wash will leave your skin feeling and looking clean, hydrated and nourished.
What It Does For You
Works gently to cleanse and help relieve and soothe dry skin.
Leaves your skin feeling clean, hydrated, and nourished.
Helps keep skin calm thanks to anti-irritation complex.
Why You Would Like It
Did you know your skin is your body's biggest organ?
That's one reason it deserves to be treated with care. G&H NOURISH+ Body Wash will help you nourish, comfort, and maintain healthy-looking skin. Thanks to mild, creamy formula it not only cleanses your skin but also leaves it hydrated and nourished. Replace your shower gel with G&H NOURISH+ Body Wash and feel the difference: your skin will feel soft and healthy.
It's suitable for use by the whole family.*
* Safe to use with children aged 3 and older (except G&H PROTECT+ Deodorant Spray and Deodorant & Antiperspirant Roll On).
Facts For You
Includes a patented* anti-irritation complex to help keep skin calm.
Biodegradable formula is sulfate-free, triclosan-free and dye-free.
Dermatologist-tested and allergy-tested.
The packaging is inspired by nature** and it is 100% recyclable.***
* U.S. Patent 8057830
** The packaging is manufactured with 100% electricity from wind power.
*** Bottles and cartons only.