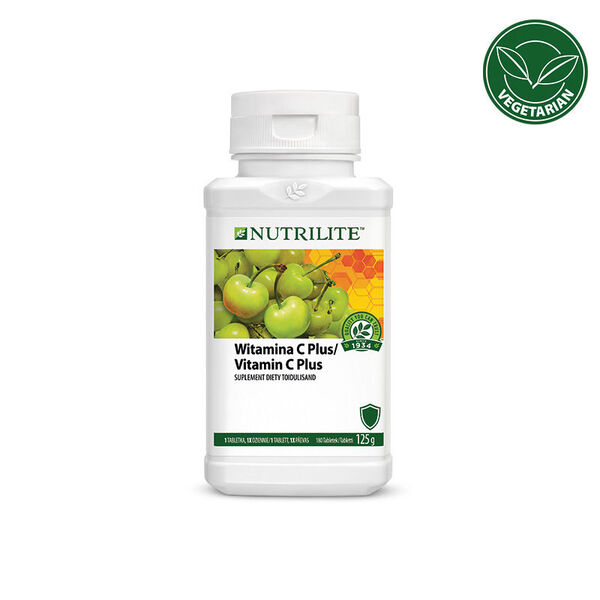 Nutrilite™ Vitamin C Plus is a highly effective food supplement that delivers a slow and steady release of Vitamin C throughout the day to support your normal immune function.

Why you will love it…
Keeping fit and healthy is a priority for most of us but it can be a challenge to maintain a thriving immune system. Environmental pollution, germs and sickness, can weaken our immune defenses. Even stress, exhaustion and an unbalanced diet can take their toll on your immunity.
The solution? Conveniently and effortlessly support your immune system with Nutrilite™ Vitamin C Plus supplement. Vitamin C is an essential nutrient that supports the immune system. In addition to providing such invaluable support to your immune system, Vitamin C helps to maintain the body's normal collagen production for healthy skin and help to protect cells from oxidative stress (thanks to its antioxidant properties).
Created from two sources of Vitamin C – natural acerola cherries grown on our Nutrilite farm, and ascorbic acid – each convenient daily tablet contains 240 mg of Vitamin C, blended with a fibrous ingredient. This blend slows absorption and allows it to be released into the body over the course of eight hours. Just one 240 mg Extended Release tablet provides more usable Vitamin C throughout the day than a 600 mg instant release option.
Good to know…
Nutrilite™ Vitamin C Plus is a food supplement containing citrus bioflavonoid concentrates from whole fruits including lemon, mandarin, orange and grapefruit that helps to support normal immune function and healthy skin.
Extended release formula provides a slow, steady release of nutrients into the body to maximise absorption without the waste associated with large doses or instant release tablets.
This food supplement contains Vitamin C from acerola cherries. This rich source is grown on our own Nutrilite farmland where we only used sustainable farming methods.
There are no artificial colours, flavours or added preservatives in this food supplement.
Suitable for vegetarians and vegans.
Product does not contain animal sourced ingredients.